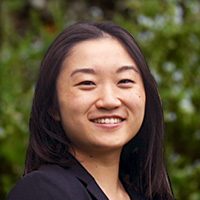 As an endodontist, Dr. Amy Yu aims to help root canal patients improve their quality of life and maintain their natural dentition through education and evidence-based care. She believes that healthcare decisions should be jointly made between a patient and their provider and be personalized for each individual's goals and lifestyle.
Dr. Yu was born in Chengdu, China and grew up in Fargo, North Dakota. After high school, she studied neurobiology at the University of Pennsylvania and graduated magna cum laude with distinction in biology. She earned her Doctor of Medicine in Dentistry at the Harvard School of Dental Medicine where she graduated magna cum laude, received the gold medal award for exceptional all-around scholastic achievement, and was inducted into Omicron Kappa Upsilon. After dental school, Dr. Yu trained at the University of Washington School of Dentistry where she received her certificate in endodontics and Master of Science in Dentistry.
Although not a native of the West coast, Dr. Yu frequently visited Sacramento before moving to the area because her partner was a urology resident at UC Davis Medical Center. Dr. Yu shadowed at Endodontic Associates Dental Group before she decided to seek additional training to become an endodontist and looks forward to being a part of the excellent care team. In her free time, Dr. Yu enjoys spending time with her friends and family, cooking and baking, practicing yoga, and gaming.
Dr. Amy Yu's professional dental affiliations:
Follow us on social media: