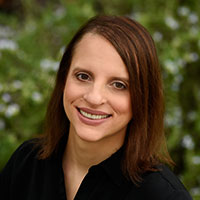 Dr. Gina Savani, an endodontist, combines her previous experience as a general dentist with her passion for endodontics, providing a comprehensive approach to her patients' overall dental health. She joined Endodontic Associates Dental Group in March of 2016 and became a partner in 2018.
Dr. Savani earned her Doctor of Dental Medicine (DMD) in 2003 from University of Pittsburgh School of Dental Medicine. She then completed a General Practice Residency at Loyola University Medical Center, Maywood, Illinois concluding in 2004. She enjoyed practicing General Dentistry for seven years in the greater Chicago area.
In her years of practice, Dr. Savani determined that she had a passion for endodontics. She pursued her endodontic training, earning her Certificate of Endodontics, from Oregon Health and Science University in Portland, Oregon in 2013 at which time she returned to Chicago and spent three years practicing endodontics.
Dr. Savani currently resides in Carmichael with her husband and their adorable young son. Most of her spare time is spent trying keep up with her toddler! She also enjoys boating, discovering what Sacramento has to offer with family and friends, and traveling.
Dr. Gina Savani's professional dental affiliations:
Social media connections: